Water activities in a natural escape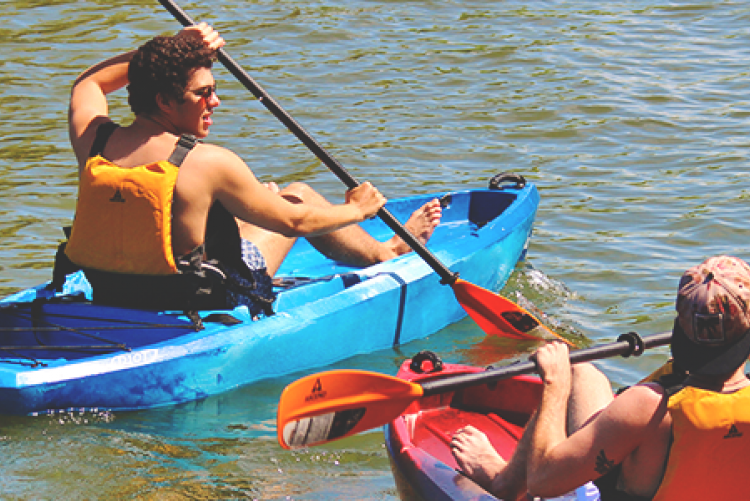 Being pampered surrounded by nature is our main promise when staying with us, from your arrival we welcome you with a welcome cocktail to start your well deserved vacation.
At Hotel El Reith Lake we believe that we all deserve to be spoiled, that is why every space in our hotel is designed for your comfort, with the touch of elegance and distinction that will make you feel part of royalty ... Its rate includes all meal times, non-alcoholic drinks and water activities so that you only care to enjoy the maximum of your stay.
In addition to spectacular views of Lake Cocibolca, dishes of the highest cuisine, fully equipped rooms and the best attention by our staff to ensure the best experience, we have at your disposal a variety of water activities for that exclusive encounter with the nature that we talked about from the beginning.
Paddle boarding
For more athletes and a certain degree of physical condition, this activity consists of sliding on the water in which the navigator uses a paddle to move through the water while standing on a surfboard. It is for people who want to spend a certain period of time, surfing with their board and enjoy a moment alone while exploring the surroundings of the islets.
Kayaks
Another of our water activities options is to stroll with the kayak as a relaxing way to spend a sunny afternoon. This exercise reduces stress by increasing endorphins, making you feel the present moment and raising your spirits, because what are holidays if not to relax?
You can even do it with a chaperone if you just want to share a moment to talk Try it!
Water bicycles
How do they work? To move, just pedal: the fun begins alone. You decide your horizon, if you do not want to soak in your ride, do not think it over, this activity is for you. In addition, if you have inclinations for physical training, you will feel as you exercise your limbs while enjoying the view that surrounds you while pedaling.
Freshwater fishing
Freshwater fishing is one of the most versatile types of fishing, with various species of fish and many ways of fishing. At Reith Lake Hotel we have a fishing tour departing from 6:00 am to start your day. We have the necessary equipment to assure you the most pleasant experience.
Late on the yacht
This is the ideal option if you visit us with a group of friends or family, we leave from our Hotel and we take a walk through some of the most iconic islets of this beautiful destination Do you imagine your favorite cocktail, under the sunset in Lake Cocibolca ? It is totally possible if you book with us. The occasion that comes to mind, any excuse is welcome for a party aboard our yacht.
These are one of the many activities and options that you have to have fun or relax when staying with us. We look forward to serving you and giving you the attention you deserve.